Mahi Pono Donates $10,000 to Imua Family Services
December 19, 2020 | The Maui News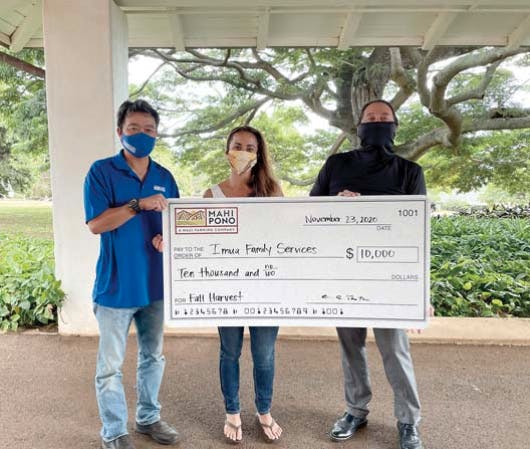 Mahi Pono donated $10,000 to Imua Family Services on Nov. 23, according to a news release. The funds were raised from Mahi Pono's first annual Fall Harvest which included pumpkin sales on Oct. 24 at Yokouchi Family Estate. The drive-thru festival provided the Maui community with a safe, ohana-friendly way to celebrate Mahi Pono's first fall harvest while supporting Imua Family Services and its community-based programs. Pictured from left to right are Shan Tsutsui, Mahi Pono senior vice president of operations; Tiare Lawrence, Mahi Pono director of community relations; and Dean Wong, Imua Family Services executive director.
MORE IN NEWS
Mahi Pono Farmers Pivot Amid Pandemic
Wind. Drought. Pests. Farming in Central Maui already holds a unique set of challenges. Add a global pandemic and agriculture operations are tested in a whole new way. So Mahi Pono, the largest agriculture company on Maui, has made key changes to its operations in light of coronavirus.