Chefs curate farm plots for Maui restaurants in Chef's Corner program
June 05, 2021 | KHON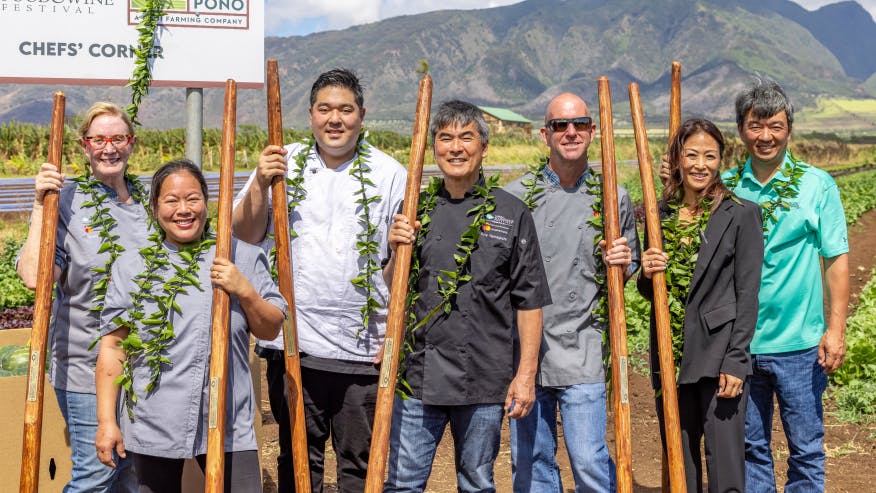 Five chefs participating in the Hawai'i Food & Wine Festival attended the groundbreaking and blessing ceremony for a new project called Chef's Corner earlier this week.
Each chef gets a quarter-acre farm lot to say what they want grown on it.
When the harvest is ready, they will get first choice to buy what is grown in their own farm lot.
Farming will be done by Mahi Pono.
The first five HFWF chefs with restaurants on Maui to have farm plots at Mahi Pono's Chefs'
Corner include

Roy Yamaguchi – HFWF co-founder and co-chair (Roy's Kā'anapali, Humble Market Kitchin)
Beverly Ganon (Hali'imaile General Store, Gannon's Restaurant and Celebrations Catering)
Chris Kajioka (Waicoco)
Scott McGill (T S Restaurants – Duke's, Hula Grill, Kimo's and Leilani's)
Lee Anne Wong (Papa'aina)
MORE IN NEWS
Mahi Pono works with Government Officials to Staff Donation Site for Maui Fire Recovery
Donations of nonperishable food, bottled water and hygiene products are being accepted from 8 a.m. to 4 p.m. Monday through Saturday near a vacant unit at the mall at the Kane Street entrance. The new site is a partnership among the county, the state and Mahi Pono. Mahi Pono will provide staff for the facility and work under the leadership of Salvation Army and Feed My Sheep to coordinate food and supplies distribution.