Teens Getting Their Hands Dirty in Mahi Pono Fields
July 11, 2020 | The Maui News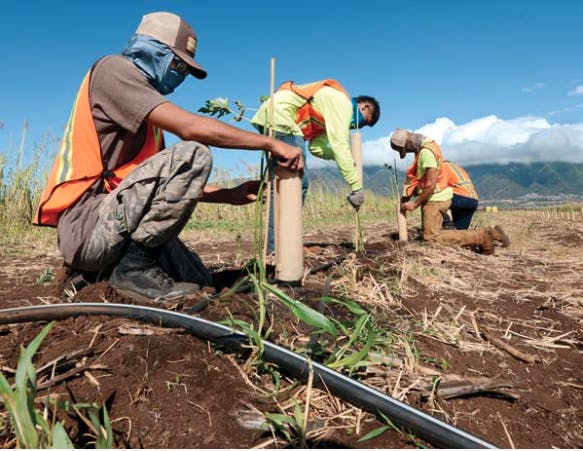 PUUNENE — The way the bright bandannas cover their faces as they toil in Maui's windy, sunbaked central valley, they could almost be mistaken for one of the sugar plantation crews that used to tend the same fields.
This fresh crop of farmhands is made up of a dozen Maui high school students learning on the job while participating in Mahi Pono's In the Fields paid summer internship program, which is a partnership with the Hawaii Agricultural Foundation. The program runs six to eight weeks and introduces students to everything from age-old farming techniques to the cutting edge as Mahi Pono transforms Maui's sugar plantation monocrop model to one of diversified agriculture on a large scale.
While the student farmers have planted all sorts of things this summer, including orange, tangerine, lemon and papaya trees, on Tuesday morning they had worked so hard and quickly they had temporarily run out of things to put in the ground. So they were pulling and chopping weeds in one of the windbreaks protecting Mahi Pono's 40-acre Chef's Garden.
"The problem with these guys is they work too fast," Mahi Pono Vice President of Agricultural Development and Business Outreach Darren Strand said with a laugh Tuesday.
"The kids are working out really well, in fact better than we thought," said project manager Jayson Watts. "This has been a way of them having an active part in Maui's food future."
Though some students used words like "brutal" to describe the constant wind and sun Tuesday, they all seemed to be enjoying the challenge and opportunity.
King Kekaulike High School senior Alexis Camara, 17, said she hopes to have a career in farming.
"It's a lot of hard work, but it's so worth it because you're preserving agriculture in Hawaii," she said.
"It's fun working because we're growing a lot of different stuff," said Maui High sophomore Blake Mitcham, 16. "I love agriculture."
Mahi Pono Director of Community Relations Tiare Lawrence said students have expressed interest in farming-related jobs. Diverse trades and skills are required on a farm, she said, including, welding, engineering, electrical, water resource management, plumbing, carpentry, irrigation installation and maintenance.
"The kids are being introduced to so many other job opportunities while they are here," Lawrence said. "Agriculture can produce an array of opportunities."
Lawrence said she was excited that the students planted crops, including bananas, carrots, potatoes and sweet potatoes, that may be included in this year's public school lunch program. Mahi Pono is working to secure a contract with the state Department of Education and hopes to have one finalized next week.
"For our kids to know they grew that food is something they can be proud of," Lawrence said.
Learning on the job is a thing Mahi Pono has also been doing on the 41,000-acre farm. From figuring out the most effective windbreaks to determining which fields are best for what crops, the company has done some tinkering with its model, all while moving full-speed ahead.
Mahi Pono crews have reportedly planted 171,000 trees, including 23,732 citrus, 800 avocado, 93,370 coffee and 17,400 papaya. Along with the plots of potatoes, sweet potatoes, bananas and carrots, there are also onions, coconuts, pumpkins, squash, sorghum and sugar cane.
Lawrence said the company plans to have 692,000 trees planted by the end of the year. She said it is also finishing the irrigation for its community farm lots and expects to start getting the lessees on the land next month.
She said the company has made a positive economic impact on the island. Along with employing its workforce, it also has been using local suppliers and contractors.
"There's so much money being pumped into our local economy," she said. "It's a real blessing for these small businesses on Maui."
* Matthew Thayer can be reached at thayer@maui.net.
MORE IN NEWS
Mahi Pono prepares food boxes for keiki
Mahi Pono packing shed crew members fill boxes with food for the Kaukau 4 Keiki Program Thursday morning. The Kaukau 4 Keiki program attempts to address the youth food access gap by providing students with a weekly box of food, delivered directly to students' homes, for families who cannot access state Department of Education distribution sites.